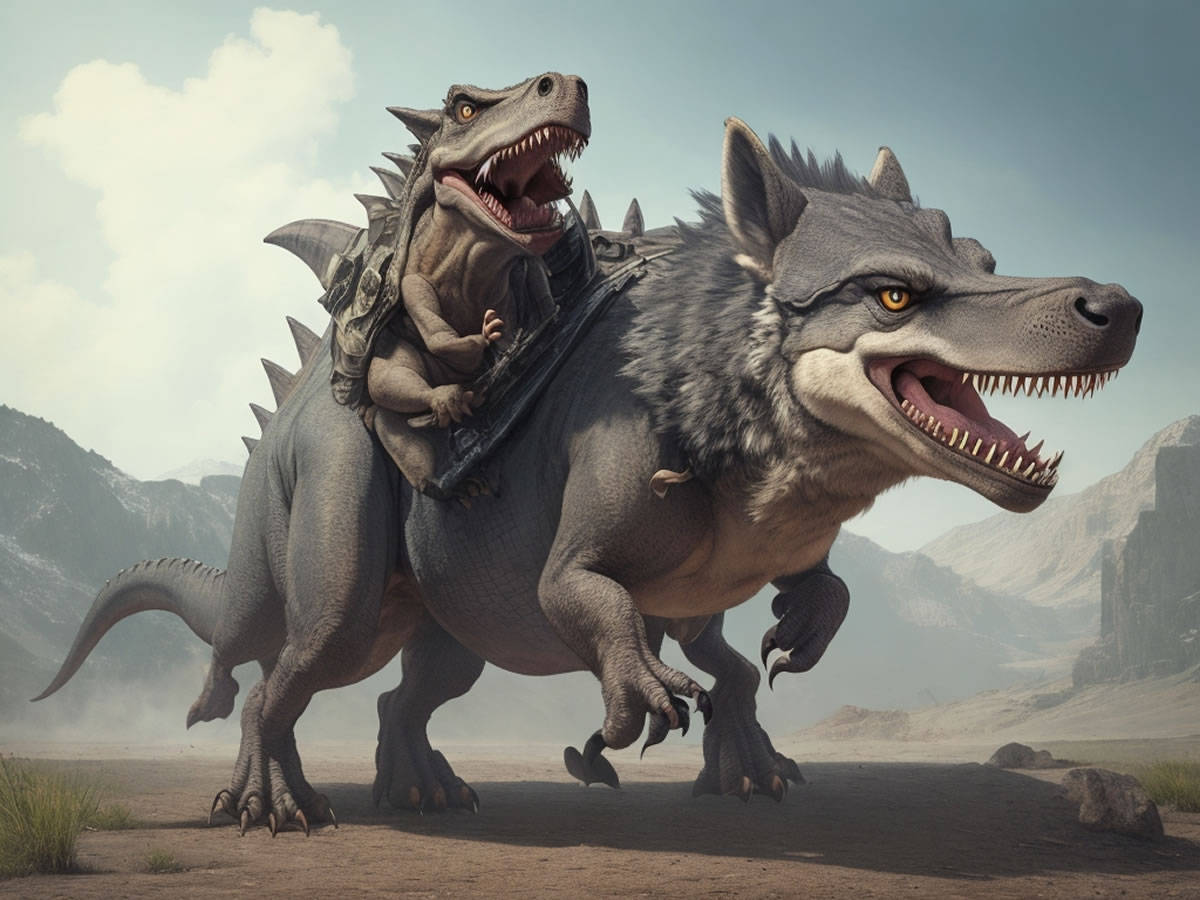 The nonsensical Chinese phrase "Kong Long Kang Lang" (恐龙扛狼) has recently taken the Chinese internet by storm. This article will explain how an obscure livestream moment turned into a nationwide viral meme.
Original version by Yu Nan Quan Mei
Wearing a ponytail, a black T-shirt and ripped jeans, the "Yunnan Quanmei" in the video is holding a microphone in her left hand and singing "Dinosaurs Carrying Wolves" on the streets of Shenzhen, and her right hand is swinging back and forth to the rhythm of the music.
The phrase originated in 2021 during a livestream by Yunnan Quanmei, an amateur singer in Shenzhen. While singing the Cantonese song "May Fei Se Wu" (眉飞色舞), she improvised the English lyrics as "Kong Long Kang Lang" in Chinese-accented English. The lyrics means a dinosaur is carrying wolves in text. This spontanous moment in her stream was then turned into short videos on Douyin (the Chinese version of TikTok) in 2022.
Despite modest views at first, the videos suddenly went viral in June 2022. Millions of users started making short clips dancing and lipsyncing to Quanmei's original video. Popular remixes and reenactments by influencers and even opera singers gave the meme a second life. By July 2022, the hashtag "Kong Long Kang Lang" had amassed 1.68 billion views on Douyin.
Imitators from over the world
Netizens all over the world are imitating Yunnan Quanmei and singing "Kong Long Kang Long". These cover songs have gained a lot of attention, further promoting the further popularity of this topic.
Behind the meme is an unlikely internet celebrity story. Quanmei is a migrant worker in Shenzhen, working an office job by day and livestreaming as a hobby. She says the few viral videos have earned her thousands of dollars in gifts from fans, after years of streaming to small audiences. Many find her upbeat attitude and singing style charmingly silly and genuine.
Tentor version by Dr. Shang Shang
Shang Shang, a bel canto lover who is currently studying at Peking University, released a tenor bel canto version of "Kong Long Kang Lang". The 3.73 million likes on Douyin pushed the popularity of "Dinosaur Carrying Wolves" to a climax. As of press time, the topic of "Dinosaurs Carrying Wolves" on Douyin has been played more than 1.68 billion times. This popularity continues to grow explosively.
The spread of "Kong Long Kang Lang" shows the power of grassroots Chinese internet culture. obscure inside jokes can rapidly morph into nationwide sensations. For many foreigners, this meme has been their first exposure to China's thriving meme culture and creative online community.
Viral Ringtones of Kong Long Kang Lang
The popularity of "Kong Long Kang Lang" is not without reason. Many people complain that after listening to it several times, their minds are filled with this rhythm and tune, which they cannot get rid of. Unknowingly, you start humming this tune. If you are already obsessed with this tune, you can download this song as your mobile phone ringtone.
Here is the original version by Yun Nan Quan Mei:
Here is the tenor version by SHANG SHANG:
If you're interested in fun music, click here for more Viral TikTok Ringtones.
(Images: Free PNG)
When you and other people like the post, the author will get paid. If you like to read the content here, please create your account now and start earning for free!